Page 126 - Ocean Blue World 24th Edition
P. 126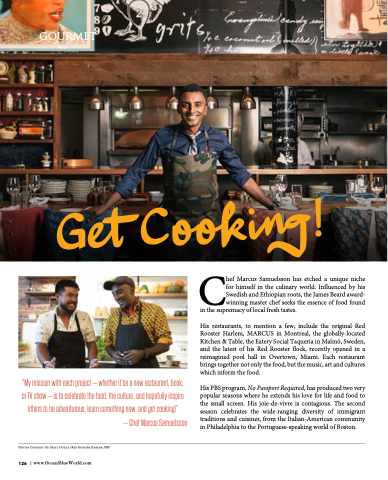 GOURMET
  "My mission with each project – whether it be a new restaurant, book, or TV show – is to celebrate the food, the culture, and hopefully inspire others to be adventurous, learn something new, and get cooking!"
Chef Marcus Samuelsson has etched a unique niche for himself in the culinary world. Influenced by his Swedish and Ethiopian roots, the James Beard award- winning master chef seeks the essence of food found
in the supremacy of local fresh tastes.
His restaurants, to mention a few, include the original Red Rooster Harlem, MARCUS in Montreal, the globally-located Kitchen & Table, the Eatery Social Taqueria in Malmö, Sweden, and the latest of his Red Rooster flock, recently opened in a reimagined pool hall in Overtown, Miami. Each restaurant brings together not only the food, but the music, art and cultures which inform the food.
His PBS program, No Passport Required, has produced two very popular seasons where he extends his love for life and food to the small screen. His joie-de-vivre is contagious. The second season celebrates the wide-ranging diversity of immigrant traditions and cuisines, from the Italian-American community in Philadelphia to the Portuguese-speaking world of Boston.
– Chef Marcus Samuelsson
 Photos Courtesy Of: Matt Dutile /Red Rooster Harlem, PBS
126 | www.OceanBlueWorld.com
 Get Cooking!