Page 76 - Ocean Blue World Edition 29th
P. 76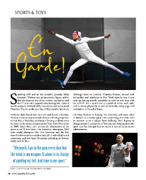 SPORTS & TOYS
 En Garde!
Standing 6'4" and at 185 muscled pounds, Miles Chamley-Watson cuts an impressive figure, add to that his status as one of the worlds' top fencers and the 32-year-old's appeal is simply magnetic. Luxury
watch company Richard Mille took notice and announced Chamley-Watson as the new face of the brand in late 2021.
With his dyed blond hair and tattooed frame, Chamley- Watson is not what you would picture a fencing superstar to look like, if there has even been a fencing celebrity since he came on the scene, competing for Penn State University in 2008. Since then, he's proven his domination of the sport as an 11-time team Pan American champion, 2019 team world champion (the first American and the first man of color to achieve such a feat), 2013 individual world champion, and two-time Olympian including his bronze medal win in 2016.
"Obviously I go to the gym every day, but the mind is my weapon. It alone is in charge of guiding my foil. And time is my sport."
Photos Courtesy Of: © Olugbenro Ogunsemore /Red Bull, Getty Images 76 | www.OceanBlueWorld.com
Although born in London, Chamley-Watson moved with his mother and stepfather to New York when he was 9, and took up fencing shortly thereafter in order to help him with his ADHD. It's a sport that occupied his mind and body, and he trains physically as well as mentally, using yoga and meditation to focus his brain.
Chamley-Watson is hoping his notoriety will turn what is viewed as a niche sport into something that kids take an interest in as a refuge from bullying. He's hoping to change people's perception of fencing, and helping grow the sport that has brought him so much is one of his proudest achievements.