Page 34 - Ocean Blue World 30th Edition
P. 34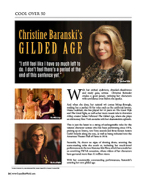 COOL OVER 50
   Christine Baranski's GILDED AGE
"I still feel like I have so much left to do. I don't feel there's a period at the end of this sentence yet."
The Good Wife
With her arched eyebrows, chiseled cheekbones and steely gaze, actress Christine Baranski exudes a quiet power, imbuing her characters with confidence even before she speaks.
And when she does, her natural wit comes biting through, making her a perfect fit for roles such as the cutthroat lawyer, Diane Lockhart, she has played for 12 years on The Good Wife and The Good Fight, as well as her more recent role in Downton
 The Gilded Age
Abbey creator Julian Fellowes' The Gilded Age, where she plays Succession
 The Good Fight
Photos Courtesy Of: Justin Stephens/CBS, Alison Cohen/HBO, Patrick Harbron/CBS 34 | www.OceanBlueWorld.com
This is just the latest in a string of unforgettable roles for the veteran character actress who has been performing since 1974, picking up an Emmy, two Tony awards and three Screen Actors Guild Awards along the way, as well as being inducted into the American Theater Hall of Fame in 2018.
Baranski, 70, shows no signs of slowing down, savoring the scene-stealing roles she excels at, including her much-loved performances in the two Mamma Mia films, which have made her an unwitting TikTok sensation, where videos of her characters have garnered more than 32 million views.
With her consistently commanding performances, Baranski's entering her own gilded age.
an old money New York socialite with her characteristic aplomb.