Page 50 - Ocean Blue World Magazine - 25th Edition
P. 50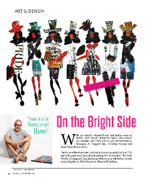 ART & DESIGN
  Photos Courtesy Of: Donald Robertson
50 | www.OceanBlueWorld.com
"I want to be the Pharrell of art!
haPPy!"
O Wn t h e B r i g h t S i d e
ith his colorful, whimsical style and healthy sense of humor, artist Donald Robertson doesn't take himself too seriously, and that's just the way his hundreds of thousands of Instagram fans, including Beyoncé and
Sarah Jessica Parker, like it.
The father of five first started publishing his work to social media in 2012 and in the years since has exploded, earning him the moniker "The Andy Warhol of Instagram," and garnering collaborations with fashion houses such as Smashbox, Bobbi Brown and Bergdorf Goodman.